QK SMTP Server
QK SMTP Server is a powerful but easy-to-use smtp server software, which can send mails from local host to the recipients' mailboxes directly at an amazingly high speed. Arrived or not, you will get feedback instantly.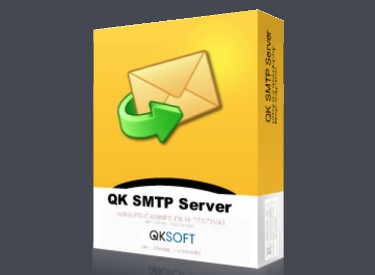 QK SMTP Server – Send Email Over VPN With Ease
QK SMTP Server 3.01
QK SMTP Server is a simple to set up and use yet powerful SMTP server software. It can send directly send emails from the localhost to recipient mailboxes at blazing fast speeds over a VPN connection. It also comes with full success and failure reporting.
QK SMTP Server works with just about any mail client software. Amongst others, the supported list includes Outlook Express, Pegasus, Foxmail, Eudora, Mutt, and DevMail. Through integration with QK SMPT Server, these email clients can also achieve higher performance.
Quickly send mail from the localhost
Very powerful yet extremely intuitive
Send email over a VPN connection
Works with just about every email program
In-depth settings and complete flexibility
IP Binding

For users with a single network card, the IP includes the default localhost IP (127.0.0.1) and the WAN or LAP IP. With two or more interfaces, IP addresses are not as easily controllable. With the IP binding functionality, only the bound IP will be accessible.
SMTP Over Virtual Private Networks
VPN providers often block outgoing email servers to prevent abuse. Our proprietary technology allows anyone to bypass those restrictions. Though QK SMTP Server should work with any VPN provider, we suggest using one form this list of recommended VPN servers for best results.
DNS Servers

The DNS server can be used to obtain the domain name of the recipient's address with direct delivery. Hence, adding a valid DNS server in the "User DNS Servers" field is vital. There's one line per DNS server address. They are used sequentially in the order specified, so the fastest server should be added first. DNS servers supplied by VPN providers work as well.
With no DNS server or user DNS server specified, QK SMTP Server will use the default system DNS server to resolve emails.
Domain Name Sending Rules

Direct delivery or relay delivery retry attempts: the number of retries which will occur when sending email to recipients. If the sender knows the recipient is unable to get emails through direct sending, the retry attempts need to be set.
Relay Server Settings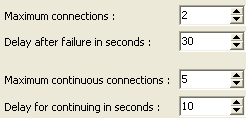 When deliveries fail, they delay between consecutive retries can be set in seconds. Using this setting much improves sending efficiency. When a single mail fails, all others that follow it will be bumped and processed while the first one awaits a re-send, resulting in much improved overall delivery speed.
Fast Multithreaded Mailing

QK SMTP Server sends email directly from your computer instead of waiting to connect to and use the ISP's SMTP server. Setting the number of threads (1 to 100) results in close to 2000 emails sent per minute.
Instant Feedback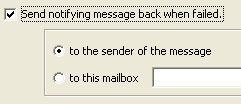 Any high-speed emails sent via QK SMTP Server give immediate feedback straight from the recipients' mail servers. Even when connected to a VPN, which typically slows things down, thanks to our proprietary technology, performance is second to none. This feature makes debugging your setup easier than ever before.
SMTP Authentication

Our software provides SMTP authentication. Any anonymous users who may abuse your server with issues ranging from spam to DDoS attacks, once detected, can be easily banned. We support authentication on a per user, IP and IP range basis.
Mail Queue Management

QK SMTP Server covers all aspects of managing the email sending and delivery processes. All logs can be empties, all sending email addresses can be removed.